Lat Machine
Payment workable in 3X free of charge (3 X 280,00 €) by credit card
Warning : Last items in stock
Availability date : 2023-03-17
The ultimate addition to any home gym. The P-LM Lat Machine comes standard as a free-weight loaded piece. Purchase the optional 90 kg weight stack and you get an industry leading 225 kg weight capacity. Tired of maxing out the lat machines at the gym, bring home the ultimate Lat Machine for the home and reach new personal records in your training.
FEATURES
New Design
Improved range of motion, lower seat and comfortably engineered.
Swivel Seat Access
The unique seat section is built into the machine allowing the seat to be locked in position or pivoted outward, opening up the middle area for numerous exercises. Multiple cable bars are included.
Included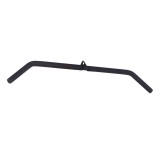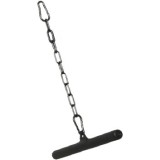 Increase the max weight with the weight Stack
For even greater weight capacity, the user can choose to add two optional weight stacks that will bring a total of 225 kg in capacity.
| | |
| --- | --- |
| 1 x WS-190 | |
- Weights and weight stacks sold separately-
| | |
| --- | --- |
| Code | P-LM |
| Color | Black |
| Height | 2,09 m |
| Width | 1,00 m |
| Depth | 1,40 m |
| Weight | 86 kg |
| Weight Capacity / Max Loads | 225 kg |
| Starting Weight | 4,5 kg |
| Ø Weight Horns | 50 mm |
| Weight Stack Compatibility | Yes |
| Weight Stack Quantity | 1 |
| Isolateral Function | No |
| Muscle Group | Abdomen, Arms, Back, Shoulder |
| Exercise Matrix | Upright Row, Low Cable Row, Wide Grip Row, Bent over row, Row Pull, Overhand Pulldown, Underhand Pulldown, Wide Grip Pulldown, Close Grip Pulldown, Underhand Triceps Pushdown, Overhead Triceps Pushdown, Low to High Wood Chops, High to Low Wood Chops |
Lat Tower Machine assembly build
Customer reviews
Reviews about this product

Show attestation
Super-strong equipment (Translated review)

Très bien surtout avec option plaque

Very good, especially with plate option (Translated review)