MULTIPRESS
Payment workable in 3X free of charge (3 X 283,33 €) by credit card
Available soon mid-January 2024 - pre-order authorized Available soon mid-January 2024 - pre-order authorized
Warning : Last items in stock
Availability date : 2024-01-15
ALL OF THE BENCH-PRESSING EXERCISES WITH TOTAL SAFETY AND CONTROL
With dual isolateral leverage arms, the Multipress is designed with control and safety in mind. It allows the user to experience the same feel and range of motion of a free-weight system while maximizing their capacity, all with the safety of a machine. The fully adjustable bench provides for a wide range of upper body workouts.
FEATURES
The Leverage Advantage
Weight plates are loaded directly onto the Isolateral Lever Arms providing for a natural feel and the resistance of free weights with the safety and control of a machine.
Fully Adjustable Bench Design
The Workbench new design provides additional stability and allows users to adjust the seating area and Back Rest Pads at different settings with ease thanks to its unique Ball Bearing Driven Carriage.
Expandable with Accessories
The Multipress includes the front tube adaptor that accepts all Powertec Workbench Accessories.
New Adjustment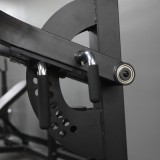 Included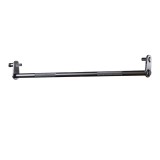 - Weigths not included -
| | |
| --- | --- |
| Code | WB-MP |
| Color | Black |
| Height | 1,05 m |
| Width | 1,41 m |
| Depth | 1,98 m |
| Weight | 86 kg |
| Weight Capacity / Max Loads | 225 kg |
| Starting Weight | 9 kg |
| Ø Weight Horns | 50 mm |
| Isolateral Function | Yes |
| Muscle Group | Shoulder, Chest |
| Exercise Matrix | Isolateral Bench Press, Close Grip Bench Press, Flat Bench Press, Decline Bench Press, Incline Bench Press, Isolateral Shoulder Press, Shoulder press, Shrug, Isolateral Bent Over Row, Wide Grip Pulldown, Close Grip Pulldown |
Full Presentation of the Multipress
Multipress assembly build
Customer reviews
Reviews about this product

Show attestation
Deux commandes, 3 articles achetés et 100% de satisfaction. Le transport qui est en général un des gros points noirs dans ce type de commandes s'est passé sans problème, le suivi et la choix du jour de la livraison impeccable, livreur très professionnel, impeccable. La palette était très bien préparée, le tout bien protégé, rien n'a bougé pendant le transport. Les articles à l'intérieur de l'emballage eux-mêmes sont d'un soin fantastique! Chaque pièce, qu'elle soit petite ou grande, est bien protégée, sans risque de rayure. Les assemblages sont faciles et les instructions claires et précises. Tout va où il se doit sans difficulté. Produits de grande qualité, grande expérience d'achat. je suis maintenant fan de la marque et j'achèterai à nouveau sans hésiter.

Two orders, 3 items purchased and 100% satisfaction. The transport, which is usually one of the biggest problems with this type of order, went without a hitch, the tracking and choice of delivery day was impeccable, and the delivery driver was very professional and impeccable. The pallet was very well prepared, everything well protected, nothing moved during transport. The items inside the packaging themselves are fantastically well cared for! Every piece, large or small, is well protected, with no risk of scratching. Assembly is easy, and the instructions clear and precise. Everything goes where it's supposed to without a hitch. Great quality products, great buying experience. I'm now a fan of the brand and will buy again without hesitation. (Translated review)

Rapide à monter fluide nikel

Quick to assemble fluid nikel (Translated review)

Excellent product (Translated review)